Fail Better's Residency at The CAPITAL Centre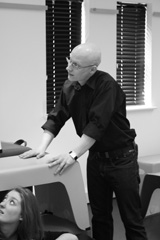 Fail Better was resident company at the CAPITAL Centre, University of Warwick between 2008 and 2010. To see a short film about our residency, please click here.
Working with Warwick students and staff through practical workshops, performance projects and work-in-progress showings, Fail Better's residency delivered CAPITAL's objective of developing creative thinking through forms of teaching and learning that emphasise active performance on the part of both teachers and learners. This involved:
Learning Events: embedding the workshop methodology
Applied Performance: a range of creative learning experiences (from Chemistry to Commerce) and the development of an ensemble of performers to contribute to public events (from Neuroscience to Networking).
Performing Philosophy: an induction session for first-years, a third-year workshop as part of Textual Studies and the annual Phil/Lit Weekend. These events were part of three years of collaborative work with the Philosophy and Literature course.
Rehearsing Beckett: practical workshops for a range of modules within the departments of English and Theatre Studies. A specific area of expertise for our company's director, these sessions offered cutting-edge performance-based learning.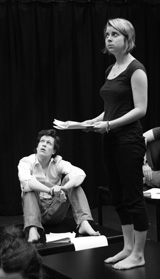 Theatrical Production: offering production placements
Fail Better re-staged their critically acclaimed show Diary of a Madman (after Gogol, celebrating his 200th anniversary) in 2009 for the Edinburgh Festival Fringe. This piece was named one of the best shows of 2007 in Time Out London and played at the Underbelly as part of their 10th Anniversary.
To continue developing the professional learning strand of the residency (crucial to the success of 2008's Lorca project), Fail Better offered four production placements to Warwick students, following an application and interview process.
Fail Better Production Placements 2009:
Assistant Producers: Jesse Meadows and Jenny Mills
Assistant Director/Performer: James McPhun
Assistant Stage Manager: Nat Rossetti
The students worked as collaborators and colleagues with key company members, as well as documenting the process and evaluating their work.
Performance Research: developing a student ensemble
Fail Better continues to work with a student ensemble at Warwick, giving them the opportunity to continue collaborating on our new projects. The student ensemble performed alongside professional actor, Jonathan Broke when Fail Better staged their tenth anniversary double-bill of Discords and Diary of a Madman at Warwick Arts Centre in January 2011