Stasis: Beckett Shorts
Rough for Theatre II and Ohio Impromptu by Samuel Beckett
Cast and Crew
Director/Producer

Jonathan Heron

Designer

Nomi Everall
Lighting Designer

Dave Thwaites
Rough for Theatre II
A

Christopher Tester

B

Jonathan Broke

C

Bertrand Lesca
Ohio Impromptu
Reader

Christopher Tester

Listener

Jonathan Broke
About the production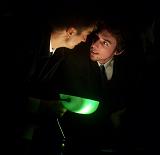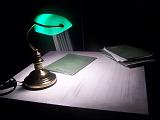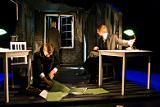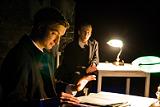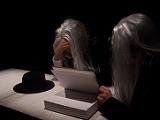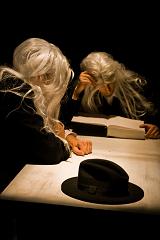 This revival of two short plays by Samuel Beckett is the centrepiece of our current Beckett Season, honouring the twentieth anniversary of the author's death. A rough and an impromptu form a unique double-bill, seen for the first time in Oxford, following performances in 2007 (on the London fringe and at Warwick University).
Rough for Theatre II
"How many unfortunates would be so still today if they had known in time to what extent they were so?"
A man stands at his window, about to jump, as two mysterious characters arrive and begin the process of dissecting his life.
Written in the fifties and then abandoned. Rough for Theatre II was eventually published in the seventies and remains rarely staged. With broader comedy then Beckett's more well-known pieces, this obscure short explores the comedy of suicide and the absurdity of bureaucracy. Bertrand and Movern resemble Didi and Gogo in Waiting for Godot or Ben and Gus in The Dumb Waiter. By focusing their attention on the suicidal Croker, Beckett allows all the subtext of the couple to emerge for his audience. Files, lamps and a birdcage become characters in this lost Beckettian emerald.
Ohio Impromptu
"Thoughts, no, not thoughts. Profounds of mind. Buried in who knows what profounds of mind. Of mindlessness."
The story of his life is reaching its conclusion; as the listener struggles to comprehend it, the reader brings it to an end.
Written for a Symposium marking his seventy-fifth birthday, this post-modern piece burns one of Beckett's most haunting images on to your brain. Dramatising story-telling and memory, Beckett achieved more in under ten minutes than lesser dramatist can in a whole evening. Allegedly based on Beckett's time with Joyce in Paris, digesting this short is like taking apart a Russian doll; its many layers prevent you from shutting down its meaning, but accentuate its beauty.
Fail Better and Beckett
Fail Better has a long standing appreciation of Beckett's drama, having consistently examined his texts and dramaturgy as preparation for their productions from the company's inception in 2001, through their Beckett-inspired devised piece Echo and Narcissus (White Bear Theatre, 2003), to the new play, Head (The Underbelly, 2004) along with a profound commitment to faithfully re-imagining existing texts. Fail Better's work concentrates as much on the visual as the textual and the production team have been collaborating since 2002 on achieving intense and detailed pieces inspired by Beckett's exquisite minimalism.
Director, Jonathan, has explored Beckett's work through academic research and practical work at the University of Warwick, Northern Stage, Kings College London and RADA, as well as interviews with John Calder, Fiona Shaw and Katherine Worth. He has introduced Beckett to teenagers in comprehensive schools in Loughton, Southgate and Jarrow. For the CAPITAL Centre, he has explored King Lear and Endgame comparatively with European Theatre students at the University of Warwick as well as Godot, Not I, Play and Texts for Nothing with Philosophy and Literature students during a residential weekend on the Somerset coast. There are already plans in place to continue this exploration of Beckett's work in collaboration with the Centre; it is an association of which we are very proud.