Discords
after Shakespeare
Cast and Crew
Writer/Director

Jonathan Heron

Designer

Nomi Everall
Lighting Designer

Dave Thwaites
Performers (2011)
Ben Edmunds
Lucy Katz
Oliver Hayes
Soraya Nabipour
Stephanie Taylor
Thom May
Tom Syms
Zoë Walshe
About the production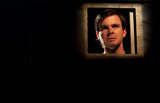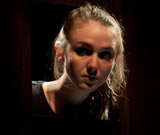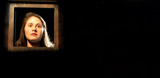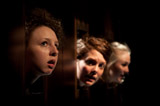 Warwick Arts Centre - 21st & 22nd January 2011 @ 7:45pm
Presented as part of a double bill with Diary of a Madman
"Hell is murky"
This piece emerged from our BeckettLab (2009) and takes key theatrical ideas from the work of Samuel Beckett and applies them to a devised adaptation of Shakespeare's King Lear. A 'theatre machine' (Brook, 1968) in every sense, this work uses an intensely restrictive shape to move through numerous iterations and performance patterns. Isolating simply the performer's heads, which emerge from a 'cabinet of curiosities' - or perhaps an archive of disembodied heads - the piece is named after the notion of the 'discord':
When creatures like us appeared, which had bodies and conscious minds, they were, as Nietzsche called them, "hybrids of plants and ghosts", the combination of a bounded, well-circumscribed, easily identifiable living object with seemingly unbounded, internal, and difficult-to-localize mental animation. He also called those creatures "discords", for they did possess a strange marriage of the clearly material with the apparently insubstantial.
[Demasio, Antonio, The Feeling of What Happens, Vintage, 2000, p.143]
The re-iteration of Shakespearean text through the theatrical device of the disembodied head, introduced a particularly Beckettian intensity. In this sense, our production recalled the corporeal abstractions of Play (1963), Not I (1973), and That Time (1976) in which Beckett reduces the human form to disembodied heads or even mouths. When his last theatrical work - What Where (1983) - was adapted for German television, Beckett replaced the bodies of stage-play with heads for the broadcast. This process of reduction was recycled for our devising process and used as a stimulus for new work.
A work-in-progress of Discords was performed at our New Work Festival (May, 2010) by Ben Edmunds, Carl Cerny, Fran Duncan, Lucy Katz, Oliver Hayes, Soraya Nabipour, Stephanie Taylor and Tom Syms, with Hari Carpenter as Assistant Director, Rima Dodd as Assistant Stage Manager and Sita Thomas as Movement Director.