Play Without a Title
by Federico García Lorca in a new translation by David Johnston
Cast and Crew
Director/Producer

Jonathan Heron

Assistant Director

Hannah Tottenham

Lighting Designer

Dave Thwaites

Assistant to the Translator

Genny Raghu

Stage Manager

Hannah Tottenham

Live Violin

Hannah Tottenham
Designer

Nomi Everall

Assistant Designer

Cara Verkerk

Sound Designer

Ant Lynch

Publicity Officer

Oliver Turner

Stage Manager

Cara Verkerk

Technical Operation

Ant Lynch
Director

Jay Saighal

Prompter

Jesse Meadows

Leading Lady

Annabel Betts

Spectator 1

Carl Cerny

Spectator 2

James Keningale

Actress (Fairy)

Maria Fsadni

Stagehand

Briony Rawle

Actress (Sylph)

Jesse Meadows
Young Spectator

Natalia Rossetti

Actor (Wolf/Bottom)

Ben Jacobs

Waitress

Briony Rawle

His Wife

Maria Fsadni

His Wife

Zoë Walshe

Actor (Woodcutter)

Carl Cerny

Man (Theatre Owner)

Ben Jacobs

Worker

Ben Jacobs
About the production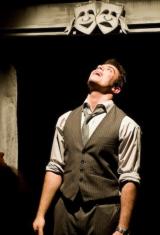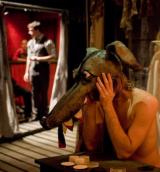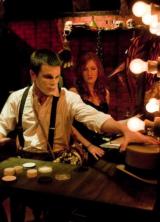 A director takes to the stage to cancel a performance; outside of the theatre a civil war is ignited.
Exploring the boundaries between reality and illusion, this lost classic reveals Lorca moving towards 'theatre of the impossible'.
As part of their Residency at The CAPITAL Centre, Fail Better lead Warwick University students in a new translation of this audacious one-act play.
The production played to full houses at Warwick (2nd-8th October 2008) and triggered a variety of educational and academic events.
The final performance took place at The Belgrade Theatre, Coventry at Beyond Spanish on Saturday 1st November 2008.
'Something is always being delivered
Out of the unknown. Often
Out of the impossible'
(Ted Hughes, Alcestis)
"With this production we are attempting to deliver something unknown and impossible.
We are exploring the capacity of theatre and performance to create substance out of unfinished, lost or abandoned text.
Working in an academic and pedagogic context, we are playing with plays about plays and working with students to create characters within characters.
And we have a set that moves!"
Jonathan Heron, Director
The New Stateman recently published an article about David Johnston's translation for this production and the Belgrade's Bernarda Alba.