Fail Better Fragments
devised installation
Cast and Crew
Director

Jonathan Heron

Designer

Nomi Everall

Technician

Dave Thwaites
Performers

Oliver Ashforth-Smith
Francesca Duncan
Edward Davis
Josh Goulding
Zoe Lambrakis
Kieran Lucas
About the production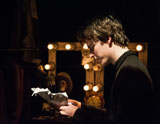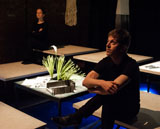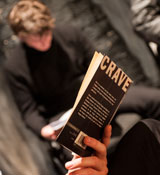 Angels, shadows, voices, dreams, the weeping of hearts locked away and broken, these things all exist, they are real, they fly through the air of this theatre...
In April 2012, we opened up our archive to an ensemble of young performers, devising a performance installation from the fragments of previous productions, creating a new piece of theatre for a ghosted museum.
They are sharp at first sight . . . then smudged . . . then lost . . . then glimpsed again . . . then gone.
The piece was performed continuously over one day, combining textual fragments from Gogol to Beckett, Lorca to Shakespeare, Ovid to Pinter in a dream space somewhere between performance and memory, characters drifting from one play to another and the audience free to explore.
Some audience feedback:
"Almost overwhelming upon entrance as you are struck by the plethora of the history of Fail Better."
"Imaginative and enthralling."
"Thanks for 10 years and 30mins of haunted and broken beauty."
"Wonderful use of space and constantly innovative."
"Lovely cogs of a man-machine. Wonderful set!"
"Uncomforting and hilarious."
"Really compelling."
"Reminds me of Beckett! Well done."