Support for Fail Better Productions
Fail Better wishes to thank A7 Communications, Pegasus Theatre and the University of Warwick for their continued support.
We are keen to establish new collaborations with organizations and individuals. There are three ways to support our development:
Fail Better Friends
This scheme will launch in Spring 2012 to coincide with our anniversary at Warwick, including performances and special events.
Learning Events
Fail Better Productions has a team of gifted educators who can run a range of practical workshops and learning experiences for any age group.
Artistic Residency
We have recently completed a highly successful university residency, as documented in 'Open Space Learning' (published by Bloomsbury Academic).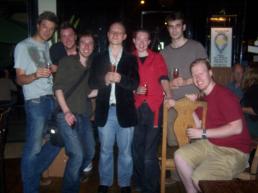 Gala Evening, London 2007
To register your interest in one of these strands, please visit our 'contact us' page and send us a message.
Try again. Fail again. Fail better.
Samuel Beckett, Worstward Ho