Head
by Zoë Simon
Cast and Crew
Director/Editor/
Producer

Jonathan Heron

Designer

Nomi Everall

Publicity Officer

Claire Hilton

Technician

Giles Burden
Head

Zoë Simon

Urchin

Matthew Landers

PH

Gary Abrahams
About the production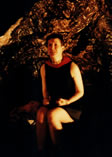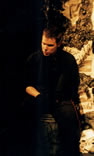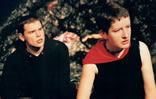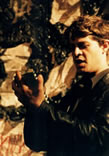 This brand new play by a talented new writer received its world premiere at the 2004 Edinburgh Fringe Festival. Set on a South London estate, Head follows the story of two young lovers, Head and Urchin. At times ferocious, at times delicate, this is a stunning piece about destructive love and the terrors of adolescence. Zoë Simon's previous plays include After Dark and The Daughter of Frankenstein. She collaborated with the company in 2003 on their devised piece Echo and Narcissus and was Fail Better's Associate Artist for their 2004 season.
Playwright Zoë Simon says: "I began with a young woman who had an unstoppable desire to express herself. That was in June 2003. A year later, I had the sixth and final draft of a full-length play about a doomed relationship in a deeply violent, savagely beautiful world. Head examines the most complex and extreme human emotions, but also the simple excitement of being in love for the first time. It confronts the difficulties involved in growing up and the incompatibility of individuality and party politics. On a more abstract level it looks at the objective versus the subjective. Neither I, nor Jonathan Heron, who worked with me as a Dramaturg on Head, had any idea that we would end up where we did. However, we are both fearless when it comes to theatre, so we were quite happy to abandon the roller coaster ride in favour of hurling ourselves off the precipice."
"A devastating, abstract piece of cruelty ... relevant and powerful." **** Three Weeks;
"Wonderfully poetic script ... powerfully acted ... impressive set" The Stage;
"A dramatic tour de force" Edinburgh Evening News.
To read reviews of this production, click here