Crave
by Sarah Kane
Cast and Crew
Director

Jonathan Heron

Producer

Ric Watts

Designer

Nomi Everall

Lighting Designer

Adam Barber

Technicians

David Tanqueray
Ruth Carney
A

Joseph Brack

B

Christopher Tester

C

Helen Bradbury

M

Lucie Collins
About the production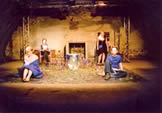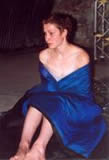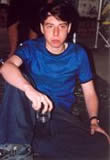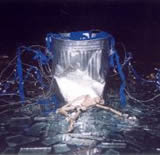 This was the first production of Crave at the Edinburgh Festival Fringe since the premiere. Kane was an exceptionally original playwright with a violent poetic voice. In this play, four voices relive memories of love, loss, birth and death. Written in a desperate and devastating poetry, the stories, confessions, and conversations of the four characters interweave to create a chamber quartet of violence, beauty and raw emotion.
It was performed in a converted vault within The Smirnoff Underbelly which accentuated the dark, subterranean and urban world of the text. We worked with the mental health charity MIND as part of our rehearsal process to focus and inform our work which explored the deepest and darkest recesses of the human mind. Visually, the piece was an emotional landscape, with broken glass and barbed wire isolating each character in their own space. It was at once beautiful and brutal; twinkling lights and deep blue silk could be found amongst the rubble.
Audiences and critics alike admired the production's rich textual elements and powerfully played emotions. "A young company do something that throws one back to the old fringe, where unhyped, first rate companies could be found in little out of the way spaces... a moving and beautifully timed exploration of the mind... acted to perfection... go make the discovery." The List; "A careful, well thought-out production... gut-wrenchingly effective." The Scotsman; "Delivered with well-drilled commitment giv[ing Crave] a renewed vigour." The Herald.
To read reviews of this production, click here