Diary of a Madman
after Gogol
Cast and Crew
Director

Jonathan Heron

Designer

Nomi Everall

Sound Design

Toby Knowles / Ed Lewis
Performer 2011

Jonathan Broke

Lighting Designer

Dave Thwaites
Producer

Jonathan Heron
Performer 2007-09

Christopher Tester
About the production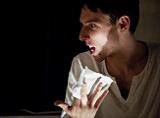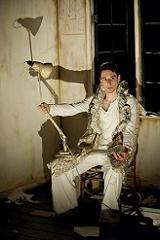 Warwick Arts Centre - 21st & 22nd January 2011 @ 7:45pm
Presented as part of a double bill with Discords
"I love going to the theatre. As long as I've a kopeck in my pocket you can't stop me."
obsession. alienation. breakdown. crisis. psychosis.

...and two little dogs writing each other letters.
Axenty Ivanovich, a Russian titular councillor, finds he can no longer exist as a mere civil servant in St Petersburg. His failure to write begins a transformational journey that will take him either to the Spanish court or to a brutal asylum.
Performed alone on an intricate set in a continuous flow of action, this one-man show challenges the spectator to see Axenty within themselves. Using methods central to the company's practice, this production tells a tragicomic story through an intensely focused and detailed immediacy that defines the Fail Better aesthetic.
This production premiered at the Rosemary Branch Theatre, London in August 2007 and was 'Best Fringe Show of 2007' for Tamara Gausi of Time Out London:
"Fail Better's accomplished one-man performance [featuring] ... an enchanting Chris Tester ... terse direction ... an absorbing performance ... clever lighting design ... a set [that] perfectly captures the claustrophobic mania ... a reminder that madness sits dangerously close to us all."
Time Out London
Last performed at the Edinburgh Fringe in 2009, the show received outstanding reviews: "... remarkably punchy ... strikingly inventive ... a truly gripping piece of theatre" Fest; "A powerful and moving piece of theatre" Three Weeks.
To read reviews and audience feedback from the London run of this production, click here